mr and mrs smith : australia/ new zealand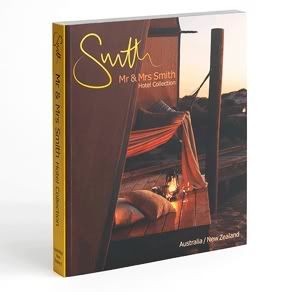 We just received word from one of our sponsors that the latest guidebook in the Mr and Mrs Smith series is now available. It features gorgeous and glamourous boutique hotels plus must visit destinations in Australia and New Zealand compiled by the Mr and Mrs Smith crew along personal reviews by incognito style-seekers.
To purchase your copy at the discounted price of AU$30 (RRP AU$45) phone 03 8678 2030 between 9am and 8pm Monday to Friday and Smith hotels will take your payment details and delivery address. Order three or more copies and get free postage and packing within Australia. This special offer closes at 8pm on Wednesday 23 December.
A complimentary Smith membership worth AU$25 (valid for a year)is also included in the purchase, guaranteeing exclusive gifts on arrival, upgrades and extras at all Smith hotels.
Visit Mr and Mrs Smith for more info on drool worthy places to stay around the world.
---